Ultimate Pest Control
Port fumigation specialists serving the Georgia Ports Area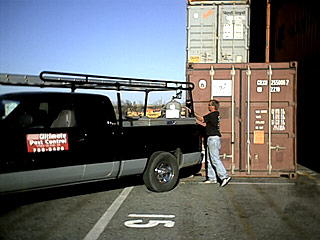 Ultimate Pest Control was first started in 1988. One of the main considerations while organizing UPC was dependable customer services on a day to day basis. We have therefore made dependability the cornerstone of our business.
Ultimate Pest Control has a field office on Georgia Ports property. This allows us to respond quickly and efficiently to your fumigation needs.
Ultimate Pest Control specializes in port fumigations. Because we operate at Georgia Ports on a daily basis, we are completely familiar with the way it operates, its employees and its layout. Our professional employees can respond to emergency calls 24/365.
Ultimate Pest Control is in a compliance agreement with the USDA. We are certified to handle USDA quarantine requirements for fumigation of imported materials to prevent the introduction into the US of pests not native to our continent.